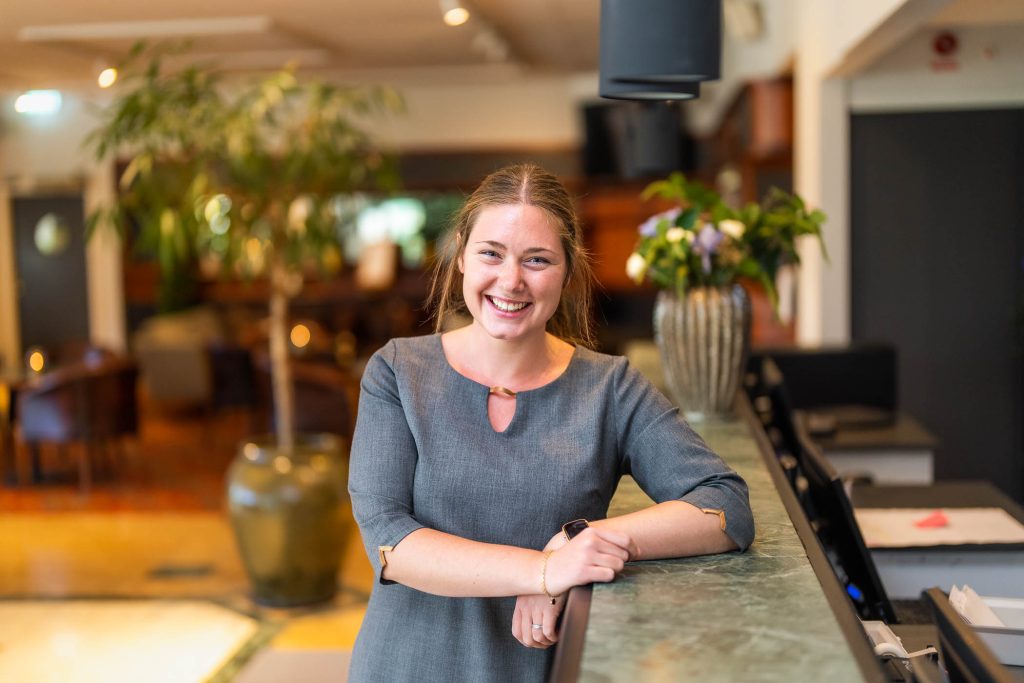 QUESTIONS AND ANSWERS
Hotel Info
Any information you might need during your stay
WELCOME TO NOVA PARK
We wish you a warm welcome to Nova Park and we hope you will enjoy your stay.
The purpose of this site is to answer some of the questions that you may have. You will also find suggestions and ideas on things to do during your stay. Kindly contact the reception if you can't find what you are looking for, and we will be pleased to help you.
We would appreciate if you would tell us your opinion about your stay with us and help us improve further.
There are questionnaires in the meeting rooms but you can also use the cards on your bed for comments.
Welcome to Nova Park!
ADAPTERS
The reception can provide you with various AC power plug adapters.
ACTIVITIES
We offer outdoor activities such as croquet and kubb (an old Viking game). Outdoor game equipment is available at the reception. We also have hiking poles and bikes. Nearby is an illuminated jogging trail.

Ask the reception how to find it. Indoors you will find a billiard-table and board games. Please ask us about "conference extras".
SWIMMING CLOTHES
You can buy swimming clothes in the reception and in the Water Lounge.
LUGGAGE
There is a locked luggage room adjacent to the reception where you as a guest can leave your luggage after checking out.

The hotel takes no responsibility for valuables and overcoats. For luggage service please contact the reception.
BAR
The restaurant and bar are fully licensed. The bar is open 11.00–01.00 daily. Apart from something to drink you can order a light meal when the kitchen is closed. There is a coffee bar at your service at all times.
DAY CARE
Please contact the reception.
PAYMENTS
We accept the following credit cards: AMEX, VISA, Master card, Diners Club as well as the mobile payments via Swish.
BOOKINGS
Would you like to stay with us again? The reception is happy to help you book your next hotel stay with us.

Planning a conference? We are happy to help you plan for your next visit!
FIRE SAFETY
In every room there is a smoke detector and a fire alarm. Please study the escape plan available in every room and localize the closest emergency exit. Would you like more information about our fire safety program please contact the reception.
BICYCLES
We have bicycles for you to borrow. Please contact the reception.
COMPUTER
You can borrow a laptop in the reception on the first floor.
ELECTRICITY
Power points have 230 V/50Hz. Please contact the reception if you need an adapter.
BREAKFAST
Our breakfast buffet is served weekdays: 06.30–09.30.
Sundays and holidays: 07.00–10.00.

Breakfast is served in the restaurant on the ground floor. If you require an earlier breakfast please contact the reception.

For breakfast in your room, there is a charge of SEK 150.
GUEST QUESTIONNARE
Your feedback is valuable as it helps us to develop and to further improve your next stay. We value your opinion and hope you will take the time to fill out the questionnaire available in the meeting rooms or leave your comments on the card on your bed. Thank you for helping us improve our service.
GYM
We have partnered up with Raw Motion, situated a couple of hundred meters across the road from Nova Park. The gym is open Monday–Friday 05.00–11.30 and Saturday and Sunday 08.00–20.00. To work out at Raw Motion please speak to the reception to get the entry card to the facilities.
TOWELS
In addition to the towels in your room, more towels may be obtained at the reception. Please consider the environment and reuse your towel, please read more on the sign in the bathroom. Towels for the Relax and Spa department are available in the changing rooms or at the reception. Our double rooms have extra towels in the bathroom.
HOTELL
Nova Park has a total of 117 rooms of which 3 are suites. 11 rooms are designed for guests with allergy related sensitivities and 1 is handicap-equipped. We have 79 Superior rooms and 35 Deluxe rooms.
DOGS
Out of respect for other quests we only allow active duty service dogs.
SUSTAINABILITY
Nova Park is "Green Key" certified. We actively work to reduce our environmental footprint by reducing our water and energy consumption, carbon footprint, reduce the usage of chemicals and recycle waste. Additionally we strive to use fair-trade certified, ecological and local produce and products.
INTERNET
We provide a free of charge secure broadband connection via a city fibre network, wired connection and wireless connection up to 1000 Mbit/s. To connect to the Wi-Fi, simply connect to "Nova Park Guest".
TRANSPORTATION
For timetables for airport bus 801 or the local bus 180 and 181 and train please contact the reception or find timetables here.
CONFERENCE
Our conference facilities are located on the 2nd floor with its own reception desk. They will assist you with everything you need for your conference, such as photocopying. If you are interested in our facilities and what we can offer – please contact the conference desk.
COPYING
The main reception and the conference area reception desk will help you make photocopies.
PILLOWS
All rooms have a hard and soft pillow. Would you like another hard or soft pillow? There are more pillows in the reception.
RECYCLING
Please help us recycle by placing recyclable items on the desk such as batteries, bottles, cans and newspapers. We will then recycle it for you.
BED SHEETS
We do not change bed sheets during stays within a week. If you would like to change more or less frequent, please contact the reception.
HOTEL SURROUNDINGS
Knivsta town, with railway- and bus station is about 3 km from the hotel. Knivsta offers shops and restaurants, a bank and post office. Train- and bus schedules are available at the reception. We can also provide you with information about the nearby city of Uppsala.
PARKING
Parking is free to our guests on Nova Park's premises. No permit is required. There are six electric charging station for our guests. In totalt we have 137 parking spaces directly outside the hotel.
RECEPTION
The reception is staffed 24 hours. Dial 9 on the hotel phone to get to the reception. The reception will help you with information, make photocopies, call for taxies, supply fans, take valuables for safe deposit etc. There is also a mini drug store with toiletries, candy and some common non-prescription drugs. There is also a gift shop with jewellry and stuffed toys. The hotel takes no responsibility for valuables left unattended.
RESTAURANT
Restaurant opening hours are:
Monday to Friday lunch 11.30–13.30
Monday to Thursday dinner 18.00–22.00
Fridays to Sundays lighter meals are served.
Please note that the kitchen closes at 22.00.
ROOMSERVICE
Room service is available during kitchen opening hours at a charge of SEK 95. To order, please call the bar from your mobile on 018-27 80 06 or the reception by dialing 9.

Light dinner
 –        Ham & cheese sandwich – 65:-
–        Chef´s salad – 135:-
–        Caesar salad with shredded chicken – 149:-
–        Omelet with shrimp or ham and cheese – 110:-
–        Soup of the evening – 95:-
–        Pasta of the evening – 135:-
–        Steak, red wine sauce and potatoes – 245:-
–        Deep fried fillet of fish, remoulade, lemon – 235:-
–        Small side salad – 55:-
–        Dessert of the evening – 95:-
 
Business dinner
 –        Main course – 395:-
–        Two dishes – 495:-
–        Three dishes – 595:-
  
Room Service Fee – 95:-
SAFE DEPOSIT
There is a safe deposit box in every room as well as boxes on the second floor in the conference area and on the first floor in the main reception.
SHOE POLISHING SERVICE
There is a shoe polish machine between the entrance doors on the ground floor.
SPA & RELAX
Please see separate information about our spa Water Lounge here.
SAFETY & SECURITY
The hotel is certified with Stay Safe Alliance. That means that we actively work with fire safety, personal safety and information safety. Would you like to know more about our safety program, please contact the reception or read more on our website.

Please note that:
In an emergency or accident call 112 from your mobile, or dial 9 for reception on your room telephone. In case of non-emergency accidents please contact the reception.
DENTIST
If you are in need of a dentist please contact the reception for more information.
TAXI
To book a taxi please contact the reception well in advance before your departure. The hotel has contracted rates with Sverigetaxi, Taxi Kurir and Taxi Stockholm.
TELEPHONE
Your room phone only works internally. To dial our reception, press 9 and we will help you.
Here are a few numbers that might be good to keep at hand:
SOS Alarm (911 Emergency) – 112
Uppsala city emergency hospital (20 km) – 018 611 00 00
Uppsala city tooth emergency hospital (20 km) – 018 611 63 50
Knivsta Pharmacy (2 km) – 018 34 38 24
NEWSPAPERS
Morning newspapers are available in the newspaper rack in the cafeteria/buffet area.
LAUNDRY
There is a laundry bag in the closet. Leave your laundry at the reception before 08.00 and you will have it returned by 18.30. For dry cleaning please contact the reception.
TV
Below is a list of available channels.
1   SVT1
2   SVT2
3   Kanal 3
4   Kanal 4
5   Kanal 5
6   Kanal 6
7   Kanal 7
8   Kanal 8
9    Kanal 9
10  Kanal 10
11  Kanal 11
12  Kanal 12
13  INFO KANAL
14  Kunskapskanalen
15  SVT24
16  SVT BARN
17  MTV 00´S
18  France 24
19  History HD
20  NRK1
21  NRK2
22  DR1
23  DR2
24  YLE TV1
25  YLE TV2
CHECKOUT
Checkout time for private guests is 12.00 unless otherwise is agreed. Conference groups are requested to checkout no later than 10.00.
WAKE UP CALL
Please contact the reception to book your wake up call.
WATER LOUNGE
Welcome to our beautiful Water Lounge. A sea-shaped pool is at the heart of the spa, here you will also find a mosaic sauna, Jacuzzi as well as a unique lounge with a magnificent fireplace. In Water Lounge there is peaceful and harmonious atmosphere.
 
We want all our guests to be comfortable and enjoy a well-deserved relaxation after a long day of meetings. It is important to us to maintain that atmosphere and therefore there is age-limit of at least 18 years of age to enter Water Lounge.  In Water Lounge you will also find some training equipment such as an exercise bike and treadmill.
 
For our conference guests we offer complementary access to Water Lounge on weekdays. Access during weekends is pre-booking only. Please contact the reception for more information.
 
Our business/private guests can purchase entrance to Water Lounge in the reception during weekdays. Access during weekends is pre-booking only. Please contact the reception for more information.
 
You need your room key to enter Water Lounge and for purchasing from the bar.
 
Water Lounge is open Monday to Friday 07.15–09.00 and 16.30–21.00